1882 Indian Cent, PCGS MS-63BN, Great Color!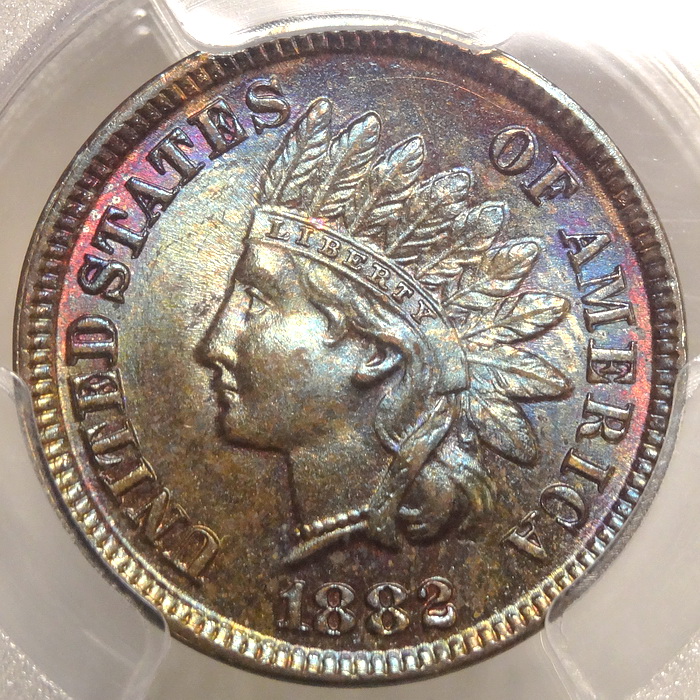 1882 Indian Cent, PCGS MS-63BN, Great Color!
A stunning, original toned Uncirculated example of this 1880's date - common, but not looking like this. An overall blue-green Obverse, with brighter magenta, bright blue, red and orange splashes at the rim. The Reverse is a yellow-orange with light green and blue undertones. Very attractive, and likely a sign of many years spent in a coin envelope. Another possibility occurs: this year is noted for Proof specimens that show considerable toning, the result of bulk purchases from the Mint by 19th Century coin dealers who left the coin in the original Mint tissue, sometimes for decades. It is possible that similar hoards of Mint State coins were also put aside by these individuals. So to, there has been some confusion over the issue of Proof vs. Mint State coinage for some of these years, and Snow notes some years have Proofs known to have been struck only once. This could be case of a business strike coin mixed in with bulk Proof Cents and stored in Mint tissue. Who know, but to whatever circumstance occurred to produce this "Gem", I say thank you!
PCGS 2142.63/84643921