1888 Liberty Nickel, Almost Uncirculated, Obverse Doubled Die??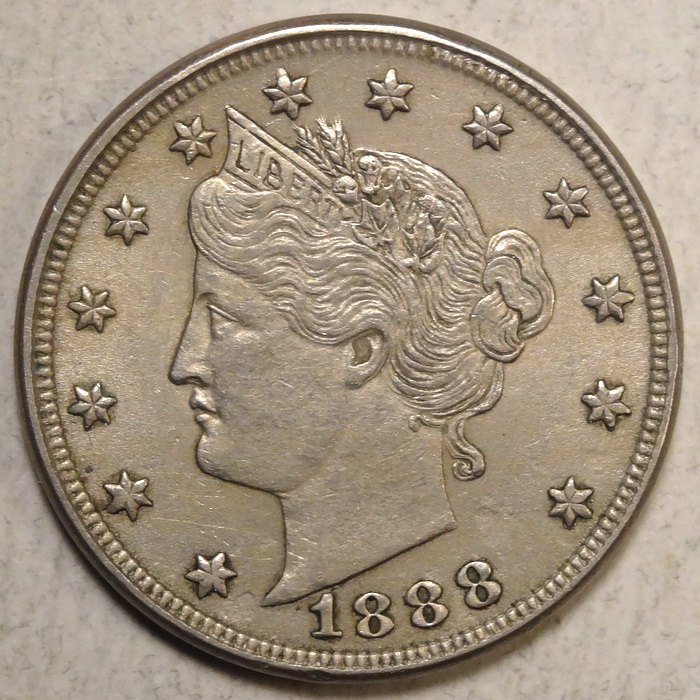 1888 Liberty Nickel, Almost Uncirculated, Obverse Doubled Die??
A nice AU+ example of this much better date, equivalent to a certify AU-55 based upon my experience submitting this series. Soft "fuzzy" luster under light pearl gray fields. This shows some very mild hairlines when you look hard at the coin, possibly from being wiped while in an old Oberwise or Whitman coin board. Not really a "cleaning" per se, but it may or may not certify if submitted. Regardless a tough coin to find. Typical 1888 strike on the Reverse, in that "E Pluribus Unum" is weak and ill defined, while the rest of the detail is normal. One other interesting feature: this may be a Doubled Die. Liberty's ear is clearly doubled, as shown. This cannot be strike doubling, as none of the letters or date show any of the shelf-like detail typical of strike doubling. Most likely a form of distorted hub doubling caused by the hub blank not being annealed quite right, and expanding or contracting prior to receiving the second impression from the master (see Allen Herbert's text on U. S. errors for a more thorough explanation). Interesting, but not necessarily worth a premium as it has not been previously mentioned (I certainly have never noticed it before). Perhaps an interesting research project for someone ...