1900-O Barber Dime, PCGS MS-62, Original, Well Struck & Rare!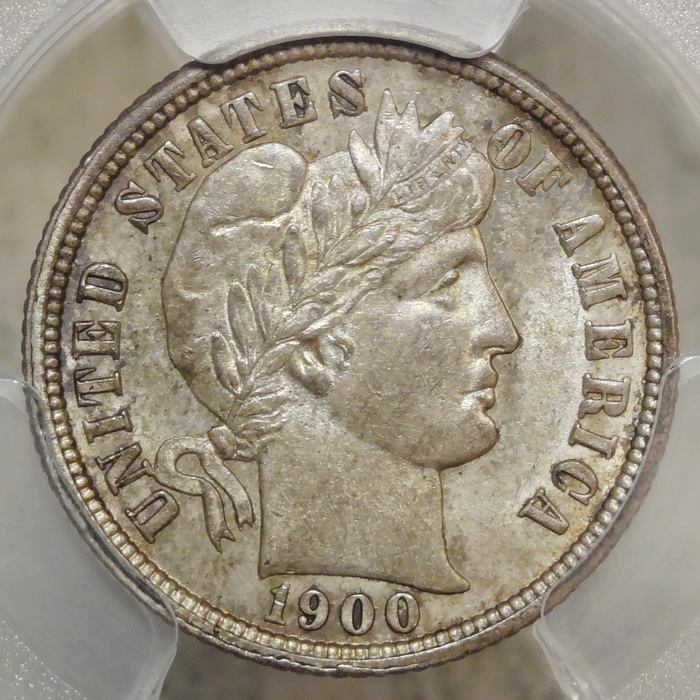 1900-O Barber Dime, PCGS MS-62, Original, Well Struck & Rare!
Ridiculously undervalued as a date. When the standard guide to the series was published, David Lawrence considered this the most underrated coin in the entire Barber Dime series. He in fact considered it scarcer in Uncirculated grades than the 1895-O, which is saying something. The current PCGS numbers are 54 for the 1900-O vs. 39 for the 1895-O in MS-60 or better - not a huge difference however indicating a few more 1900-O's have come out of the Southern woodwork since the early 1990's. A Half Dozen in the grade at PCGS, however I doubt many look like this coin. Lawrence reported that the typical specimen he saw was "poorly struck with lackluster surfaces", not the case with the present example. This is a dead on original specimen with a nice, relatively even strike. Unlike most higher grade specimens I have owned, no problems and not much sign of the dies breaking down either, which is likely part of the problem with strike & quality on most survivors. I am asking a premium for the quality, however as opportunities to purchase an Uncirculated coin in a reasonable price range (more than half of the PCGS certified coins are in MS-65 or better) tend to be few and far between, certainly worthy of consideration.
PCGS 4822.62/37774219
sold out