1861-S Seated Liberty Half Dollar, Very Fine+, Unlisted Die State?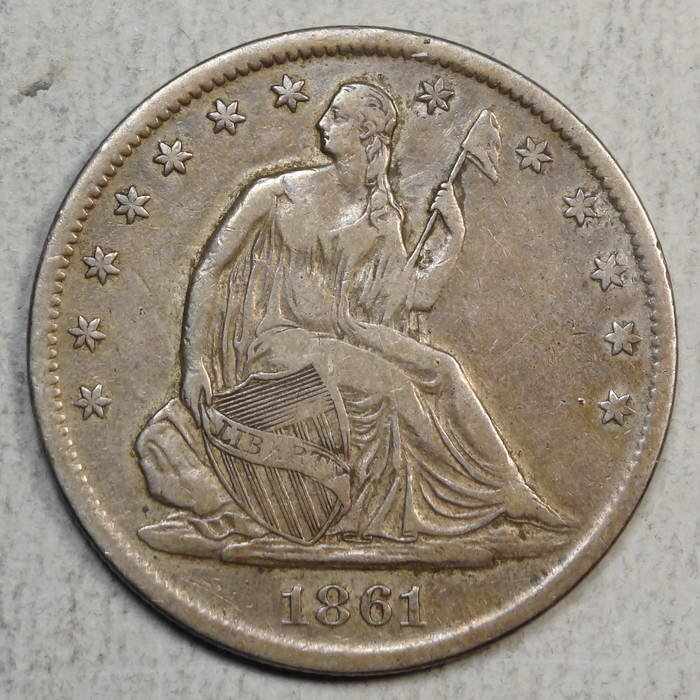 1861-S Seated Liberty Half Dollar, Very Fine+, Unlisted Die State?
A decent mid-grade example of this popular Civil War era date, for which the variety proved to be a challenge to try to identify. The closest listed Bugert variety is WB-3. This appears to clearly be Obverse #2, however it does not have the extensive die cracking noted in the text, nor is the date as weak from repolishing. The Reverse is definitely a Large S with the top serif touching the olive stem akin to Reverse C, again however the extensive die cracking noted is missing. WB-3 is the second use of Obverse 2 with a new Reverse, so one assumes that it took some time for the die cracks to emerge. This coin is likely an early pairing of the two dies prior to the dies emerging from the hammering the dies took. Other than that, the coin stands on its own as a decent mid grade example. A bit of a "split" grade, as the Reverse is a very strong VF, equivalent to what you will see on a VF-35. The Obverse, as the result of the repolishing necessary to keep it in service, is a bit weaker on the Shield as well as the entire bottom portion of the coin. On balance, somewhere in the VF-25 to 30 range is an unreasonable call. As typical of almost all survivors of the era, this suffered a light cleaning a long time ago. The color is now an acceptable olive-gray on the Obverse, a lighter grey on the Reverse. Some very minor traces of luster can still be seen, if you look hard for them.